The Wonderful World of Plugs 
If you're already an expert on sex toys, then you've probably already heard of butt plugs and maybe even own a few. 
But if you've only recently started to explore the wonderful world of sex toys and fetish gear, then you might be a bit curious. Maybe you've been asking yourself, "What do you do with a butt plug?" 
At first, the answer might seem self-explanatory, but in reality, there are many different uses for a butt plug, and just about anyone can enjoy them, regardless of gender, experience level, and sexual orientation. 
In this article, we'll explore butt plugs, from their intended use to the many different types out on the market today, as well as choosing a few of our favorites that you can find right here on the site, ready to ship right away! 
Whether you're a newcomer or a seasoned plug pro looking to explore some new varieties and uses, you'll definitely gain some valuable info. 
Understanding Measurements 
First things first, let's talk about some of the major differences between butt plugs and dildos. Aside from where each is intended to be used, butt plugs are designed very differently from dildos. 
For one, most butt plug users are more concerned with circumference than with total insertable length. 
Dildos often emphasize length over circumference, due in part to the fact that vaginas are better at adapting to large toys (and penises) than the anus is. In a strictly biological sense, the anus wasn't intended to have objects inserted into it.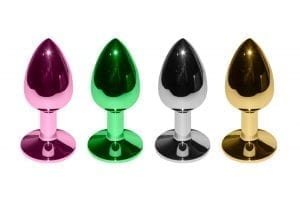 This means that it's more vulnerable to tearing and other damage, which we'll discuss in the next section. 
When shopping for butt plugs, be sure to start small if you don't have much experience with anal play. Above all else, check the circumference measurement of each toy. 
Don't go big right away, and if you're buying a plug for a partner, make sure they're involved in the selection process. 
Safety First 
In several different ways, butt plugs can be riskier than many other popular types of sex toys. As we discussed above, the anus isn't designed to deal with the stress of insertion. 
That said, butt plugs can be perfectly safe when used responsibly. 
You may have noticed that almost all butt plugs on the market today have a flare along the base. The purpose of this flared design is to prevent the toy from going too far into the anus, to a point where it can't be easily removed. 
But this flare still isn't a guarantee of your safety. With each plug, take your time to get to know it and understand how it interacts with your body. 
Large butt plugs can also cause sphincter tearing if not used carefully. 
With butt plugs of all types, it's important to use lube at all times. Even if you're looking for some rough play, apply lube to your toy before getting started. 
The type of lube you use should be based on two factors: your own health concerns and the material of the toy you're using. 
Water-based lubricants tend to be much kinder to silicone toys, for example. 
Do your research ahead of time to make sure that your playtime will be painless so that you can focus on your own pleasure. 
If you're using a butt plug and feel more pain than you expected, don't hesitate to remove the toy and give yourself, and your butt, a bit of a break. 
As with all activities you try with your partner, communication is always key, especially if you're trying something for the very first time. 
Never pressure your partner to try something they're not comfortable with and if you're feeling pressured yourself, be honest about your reservations. 
Kinks and new sexual experiences are only fun when everyone is on board. When you have your partner's consent, you'll get to pleasure them like never before, and you're sure to be pleasured in return. 
Common Uses for Women and Men 
Now let's move on to some of the most popular ways to use butt plugs. These toys are great for solo play or with a partner. 
Unfortunately, even today there is a stigma around men engaging in anal play. If you're a man curious about anal play, just remember that there's nothing wrong with exploring your own sexuality. 
We can't guarantee that you'll enjoy using anal toys like butt plugs, but it never hurts to try.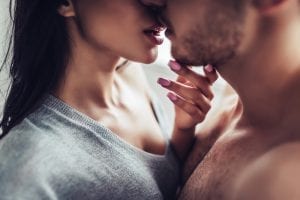 Anal Training
While playing with butt plugs can certainly be an end unto itself, they can also be used as training tools. 
If you or your partner have been interested in anal penetration but aren't ready to dive in right away, butt plugs can be a great way to explore the sensations and hangups you'll be likely to experience. 
Plugs also have the advantage of coming in many different sizes. There are even training sets that include plugs in multiple sizes so that you can take your time working your way up to the big ones. 
After repeated practice, you'll be well prepared to try out the real thing, and you'll know your limits in case you want to stop. 
BDSM Relationships 
BDSM relationships, which involve a certain degree of power dynamics (often a submissive/dominant contrast), have only grown more popular in recent years thanks to a more open approach to personal sexuality. 
Some couples engaged in BDSM relationships enjoy extending play beyond the bedroom, even assigning tasks to be completed when the other person isn't there. 
Butt plugs have many uses in a BDSM context, including long-term use. Small butt plugs can potentially be left in for several hours. That way, the person is being sexually stimulated during the course of their daily routine, not just when they're in the bedroom with their partner. 
Low-Risk DP
Dual penetration involves a woman receiving penetration in the vagina and anus at the same time. For many, this provides a whole new level of stimulation and a fun change of pace from traditional sex. 
There's no right or wrong way to try DP, but some couples just aren't ready for the realities of group sex. Finding a third to join you and your partner can be time-consuming and even risky. 
Or, you can skip all the fuss and use a butt plug instead. Your partner can experience the fun of double penetration without having to find a compatible partner. 
Types of Butt Plugs 
In closing, let's take a look at just a few of the many varieties of butt plugs that are available for sale right now. 
Let's not forget that apart from being fun to use, butt plugs can look great, too. It's up to you whether form or function is more important when choosing your own toy. 
All of the toys listed below can be found on our website. Feel free to check out the specific details and specs of each before buying.  
Standard Plugs 
For absolute beginners, it's tough to go wrong with a basic, standard plug that doesn't mess around with fancy features or wacky designs.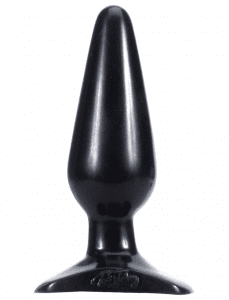 And this plug here is beautifully simple, ready for experimentation and play right out of the box. Safe to use alone or with a special someone, this butt plug will quickly become one of your favorites.  
Tail Plugs 
If you're feeling just a bit kinkier, then you may want to check out tail butt plugs. These cheeky toys feature a plastic or steel butt plug, attached to a fluffy tail made of faux (or real) fur. 
 This example here includes a tail made of real fur for a luxurious tail to wear on your own or when playing around with a partner.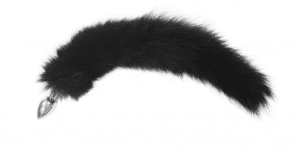 Tail plugs are often closely associated with pet play, which involves one person to act like a submissive pet, but tail plugs also work well for more vanilla play, simply as a sexy addition to your outfit (or lack thereof).  
Vibrating Plugs 
Vibrating plugs like this one can add a whole new dimension to your pleasure, combining the fun of vibrators with the girth of a traditional butt plug.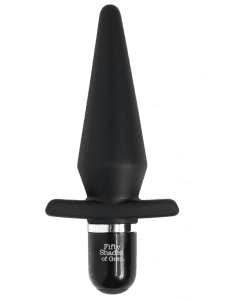 The Fifty Shades of Grey Vibrating Butt Plug is waterproof and features 3 different vibration speeds and 7 different vibration patterns. 
Try it out in the tub or even bring it with you for a long vacation. 
Expandable Plugs 
For individuals who are more experienced and are ready for a challenge, expandable butt plugs offer the chance to push yourself to your limit. 
This model is a perfect example, using a simple pump to inflate the plug after it has been inserted. If you go a bit too far and are having trouble removing the toy, no problem: just trigger the release valve with one press and the plug will deflate back to its starting size.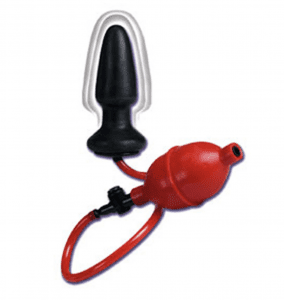 Expandable plugs like this one would also be well suited to anal training, as discussed earlier. You'll be allowed to increase the size in small increments, making the increase easier to manage.