The fundamental sex toy 
When you ask someone to picture a sex toy in their mind, there's a very good chance they'll automatically picture a dildo, regardless of their gender and sexual preferences? 
Why? Well, it's easily one of the most widely known and just plain popular sex toys out there, and it's been around for decades in one form or another. 
Every toy has its own distinct advantages, sure, and certain people prefer vibrators while others might stick with more complex sex machines and thrusting toys, but dildos are a simple and fun way to play around by yourself or with a partner. 
That said, we're living through the golden age of sex toys, with more companies springing up than ever before, each with its own unique take on some classic toys, dildos included. 
Whether you're brand new to the world of sex toys and you're on the hunt for your first dildo or an experienced user who already has a sizeable collection, you'll find some fascinating picks on our list. 
We picked out some of our favorites that may very well be the best silicone dildo while also offering a variety of options to fit different personal needs and preferences.  
Some are better suited for beginners while a few might be best left to more advanced individuals. 
Let's blast off into a world of playtime and pleasure!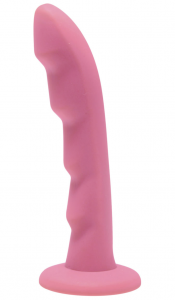 On first glance, this dildo may look quite simple and unassuming, but in reality it's a great toy that can work in many different situations, thanks to its design. 
You'll notice that it's relatively narrow for a dildo. It also features "raised pleasure swells" that will give you extra-pleasing sensations as it enters. 
The narrow width makes it a great choice for a few different groups of buyers. For one, ladies looking for their very first dildo will appreciate that the Strap U Ripples isn't too thick, making playtime more convenient and far less intimidating. 
That narrow shape can also be a great fit for any looking to get started with anal play. It wouldn't be advisable to use the full length of the dildo in this case, but starting out with something narrow will help things go much more smoothly. 
This brings us to the base. The flared base is specifically designed so that the dildo can be used with strap-on harnesses (more on those later). The base slips into elastic bands in the harness and can then be used with just about any strap-on set. 
But that flared base also makes this dildo perfect for more traditional use. Just set it down on the floor and ride it or hold it in your hand and manage the speed and intensity by hand, literally. 
The base does not include a suction keep, so keep this in mind if you're hoping to find a dildo that you can stick to the shower wall.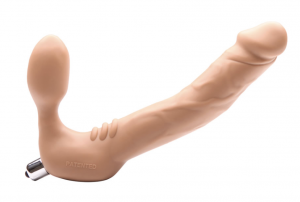 The Realdoe More Strapless Strap-on Vibrating Dildo aims to tackle a major problem with more basic strap-on setups, namely that the individual wearing the harness doesn't get to receive any direct pleasure while pleasing their partner with the strap-on. 
This is where strapless strap-ons come in to save the day. They feature a small nub/insertion point that goes inside the vagina of the wearer. As they thrust into their partner, they are also pleasing themselves with the toy. 
The Realdoe Strapless Dildo measures 7 inches and also includes a vibrator inside the toy, making it even more exciting for couples to use it together. 
The main dildo portion features realistic styling and a pleasing head. 
Best of all, it's waterproof, meaning you can bring this toy with you to the shower, the pool, or even a hot tub.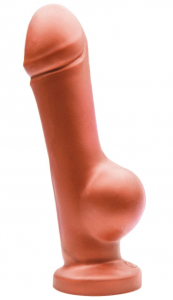 The Destiny Super Soft Silicone Dildo is our choice for a beginner's dildo. The relatively short length of 5 inches makes it an obvious choice for anyone who's a bit scared off by the enormous dildos they've seen in porn videos. 
But even more importantly, the texture of this toy makes it fun and easy to use, right out of the package, and it still provides plenty of firmness to make insertion easy and painless. 
This dildo is a great choice for those looking to get more involved with sex toys and figure out which toys they enjoy the most. 
This toy comes in copper and metallic purple, making it attractive enough to leave out in the open all the time, if you so choose.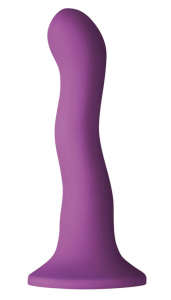 The Colours Wave Dildo isn't just a great sex toy, it's almost an art piece. Its unique shape and bends make it pleasing to look at, even when it's not in use. 
This dildo has an insertable length of 6 inches, making it on the shorter end compared to the other dildos in our list. 
The toy is made of firm silicone, so don't expect too much bending when you're playing with this one. 
The base of the Colours Wave Dildo is carefully designed to work with strap-on harnesses as well as on its own. The base includes a suction cup, letting you stick this dildo up just about anywhere, as long as you have a smooth surface. 
This is one of the most versatile dildos we've reviewed, and with a price point of less than $30, it's also easily one of the most accessible.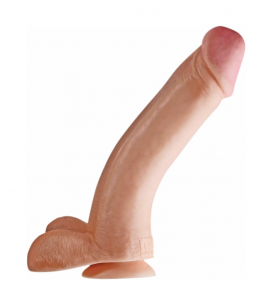 Now that we've covered several dildos that are great for beginners or that work well for couples and anal play, we wanted to also include a dildo that is better suited for those looking for a more intense experience. 
The Tom's Cock Suction Cup Dildo stands at a whopping 12 inches of insertable length. The curved shaft offers a fascinating sensation and the realistic testicles bring the experience that much closer to the real thing. 
With a girth of 2.5 inches, this toy should really only be used by those who are comfortable handling large dildos. 
Beginners will most likely have trouble using this toy and we highly recommend that if you're just starting out with dildos, try some of the others we suggested earlier in this article. 
Your body needs time to adjust to larger insertions, so taking it slow and using plenty of lube will help prevent injury and discomfort.
The benefits of silicone 
Before we go, we'd like to mention some of the many benefits that silicone has to offer as a sex toy material. 
Silicone has steadily become one of the most popular materials for crafting sex toys, especially dildos. 
Why is that? 
Silicone is non-porous. In other words, it doesn't absorb materials or bacteria. That may sound unimportant at first, but when we consider where sex toys end up and how intimately they interact with our bodies, it quickly becomes a serious concern. 
Many other plastics and rubbers are naturally porous. So when toys made from these materials are used, there's a huge health risk upon every use. 
First, it's possible for porous toys to transfer dangerous chemicals to the body of the user, which could lead to a number of different infections, especially within the vagina, which is particularly sensitive to changes in bacteria and pH. 
In turn, it's possible for the user to transfer bacteria and fluids to the toy itself. Those elements will sit inside the toy for a long time unless given a thorough deep cleaning on a regular basis.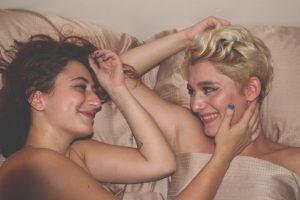 Silicone, on the other hand, neither gives nor takes materials and bacteria, making it much easier to clean and reducing the risk of any kind of infection as long as the toy is stored and maintained safely. 
Silicone is also simply one of the most durable materials that can bend and be molded into smooth shapes.  
As you've already noticed, silicone can also be easily dyed, safely, into a near-limitless number of colors. 
Whenever using a dildo of any kind, we recommend using lube as well, even when you're using it with a partner. 
Just be careful to check the type of lubricant you're buying. Water-based lubricants have certain downsides, but they can be safely used with silicone toys. 
Silicone-based lubricants, on the other hand, pose a threat to your silicone toys. In many cases, silicone lubricant breaks down the composition of your silicone toy over time, making it unusable. 
Always be sure to play safely, whether alone or with someone special. Never force a partner to engage in play that they're not completely comfortable with. 
Above all else, don't be afraid to experiment! If you've never owned a dildo before, you may even want to buy two or three at first, of different types and styles, so that you can get a better sense for what you enjoy and what you might want to try in the future. 
You can even ask friends about their favorite toys, or whether they use toys at all. 
In the end, it's your journey, and only you can decide on the direction.